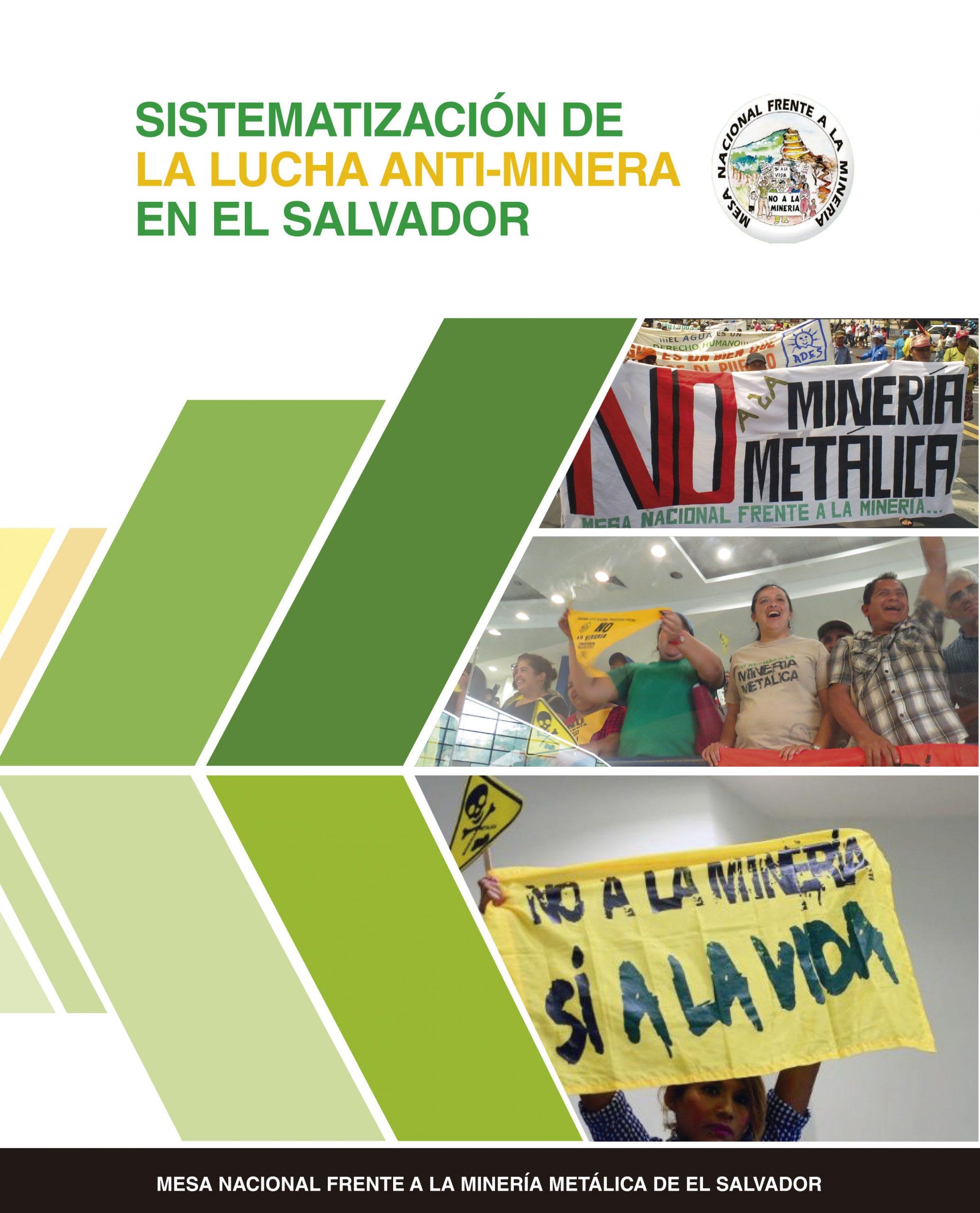 CLICK THE PHOTO TO DOWNLOAD REPORT IN SPANISHOn the fourth anniversary of the historic ban on metal mining in El Salvador, the National Roundtable Against metallic mining of El Salvador released a report that documents the events and strategies that led to the historic ban on metal mining in El Salvador.
Seen from the perspective of the activists who let the local struggle against mining, the document starts with a historical background of mining companies in El Salvador, the resistance against a series of mining projects that began operating unannounced in communities in the early 2000s, the resistance of the communities that led to the acts of violence and assassination of 5 environmentalists in Cabañas and the strategies these communities utilized to forge a robust national and international movement against metal mining in the country.
After learning that metal mining in neighboring countries had caused environmental degradation, the loss of biodiversity and sources of water, and more importantly, damages to human health, organizations in the country sought to build national alliances with universities, NGOs and the church to counter the deceit (jobs and development) that companies were utilizing to sell their projects. The struggle took international dimensions when two companies, Commerce Group and Pacific Rim (later acquired by OceanaGold), decided to sue the government of El Salvador at the International Centre for the Settlement of Investment Disputes ICSID. The support of international organizations helped find technical deficiencies in the arguments of mining companies, and also helped bridge the active participation of members of the MNFM in the presentation of an Amicus Curiae at the ICSID and in numerous international solidarity actions across the world. When the struggle took a violent turn, it was international organizations who helped members of la mesa navigate the international human rights system and helped to echo the calls for justice to the international public opinion.
Despite of the success of the campaign and the fact that the mining prohibition has been in force for the last four years, La Mesa affirms that there has been no commitment on the part of the Salvadoran State to implement the law. In particular, the report points to a government´s debt with communities affected by mining: they still face the impacts of acid drainage in abandoned mines, there has not been an effort to provide incentives for artisanal miners to convert to more sustainable occupations, reparations for families that were victims of mining violence have not been issued, no efforts have been made to conduct environmental remediation to 15 abandoned mines classified as "environmental passives", and no steps have been taken to protect local watersheds from cross border mining projects.
The report closes demanding that the current government of Nayib Bukele guarantee that the mining prohibition will not be reversed and that the Ministry of the Environment and Natural Resources (MARN), and the Ministry of Economy (MINEC) develop regulations to implement the decision of the Salvadoran people not to allow the metal mining industry in the country.