El Salvador: Pacific Rim Mining Co. Shares Up, Tensions Remain High in Cabañas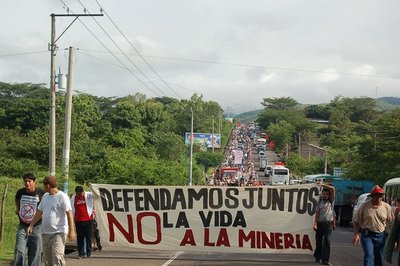 Written by Jason Wallach 
Friday, 18 September 2009 07:57
At the recent Pacific Rim Mining Company shareholders' meeting in Vancouver, BC, shareholders voted to extend repayment on $6.7 million of stock-like warrants for another year. About $800,000 of the extended warrants belong Pacific Rim Executive Board members themselves, so the move sent a clear signal to investors that the company is committed to carrying through with its $77 million investment arbitration claim against the government of El Salvador.

Pacific Rim has spent millions on exploration costs in hopes of re-opening the El Dorado mine in eastern El Salvador, close to the town of San Isidro. The company's hopes were all but dashed in July 2008 when massive public outcry against the mine forced then-President Tony Saca to suspend permits for Pacific Rim's continued operations there.
For the full article see here.